Im a huge fan of ancient Egyptian architechture and society, I have been for many many years and this particular story caught my imagination. Going through school and in everything I have read it has always been presented that the Great Sphinx, the huge ancient Egyptian 'statue' has the body of a lion and the face of a Pharaoh.
But now a team lead by a British Geologist is delving deeper into a sometime supposed theory that the Sphinx was actually created with the face of a lion to match its body.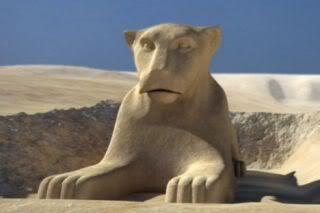 Uncovering the secret face: This digital recreation shows the Sphinx with the face of a lion
The British team are investigating evidence that suggest erosion occurred on the face of the Sphinx long before the Pyramids of the area were built, this puts the icons origins at between 2550BC and 2450BC - the previous estimate being only 4500 years ago.
Another piece of evidence that interests the investigators is the fact the Sphinx's head is out of proportion with the rest of the 'lion body' - suggesting in may in fact be a 're-carving' in the form of the Pharaoh Khufu.
Interestingly, a commenter on the article also mentions another 'legend' stating that Napoleon deliberately broke the Sphinx's nose :)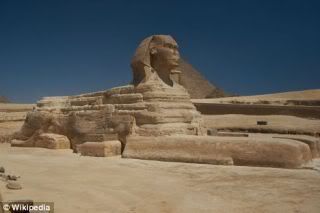 The Great Sphinx's paws and head are out of proportion, suggesting there may have been an even larger, earlier statue which was adapted
Article:
http://www.dailymail...ion-desert.html