QUOTE
A 400-year-old book covered in a sheet of wrinkled human skin is going under the hammer in a bizarre auction.
It is thought the skin was cut from the corpse of one of Guy Fawkes' fellow conspirators in the Gunpowder Plot of 1605.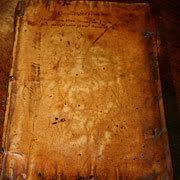 Can you see a ghostly face?
And if you hold the novel in the right light, you might even see a ghostly face on the cover, it is claimed.
Called "A True And Perfect Relation Of The Whole Proceedings Against The Late Most Barbarous Traitors, Garnet A Jesuit And His Confederates" it tells of the grisly end met by the Gunpowder Plotters.
It was published in 1606, just months after the Jesuit priest Henry Garnet was captured and executed for his part in the plan to blow up the Houses of Parliament.
The book's owner, who does not want to be identified, told Sky News he hopes it will go to a museum so that people can see it.
He believes that marks on the leather are evidence of torture, and says a Latin inscription on the cover which reads "severe penitence punished the flesh" was written to make sure people knew what had happened to the victim.
Sid Wilkinson, of Wilkinson's Auctioneers in Doncaster, says the ancient human skin feels smooth "and a little bit strange to the touch."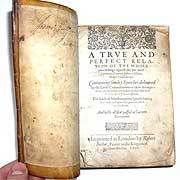 Controversial book is 400 years old
Several other books covered in dead people's skin are held in museums around the world.
The practice, known as Anthropodermic bibliopegy, had a novelty value hundreds of years ago. The most popular were court reports of murders that were covered in the skin of the perpetrator.
Source:
http://news.sky.com/skynews/article/0
,,30100-1294663,00.html