This is an interesting story about a 1911's Gräf & Stift Bois de Boulogne touring car, some claim to be cursed after several of its owners had died unexpected and non-average deaths. The tale starts with the death of the cars first owner, subsequently also said to be the cause of the start of WWI in 1914 when Archduke Francis Ferdinand and his wife Archduchess Sophie were gunned down in the car by assassins.
* The second owner General Portiorek, suffered a humiliation and died in an insane asylum.
* Then the governor of Yugoslavia had several accidents in the car, including losing an arm in one. He quickly sold the car on.
* Dr. Srikis brought the car and died in a crash in it 6 months later.
* The next owner suffered such bad luck he committed suicide.
And on it goes for several more owners. Co-incidence? What do you think?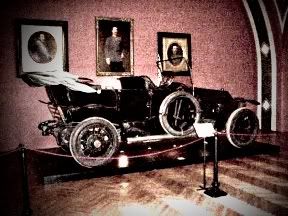 The death car.
Full article:
http://www.ourstrang...rian_death_car/